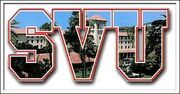 &nbsp
Sweet Valley University is part of the Sweet Valley High young adult book series created by Francine Pascal. The series featured twins Jessica and Elizabeth Wakefield starting college. Unlike any of the other spin-offs, SVU covered two years of the twins' lives, their freshman and sophomore years in college.
Elizabeth (Secret Love Diaries)
Jessica (Secret Love Diaries)
Sam (Secret Love Diaries)
Chloe (Secret Love Diaries)
Where a thriller would go into the series at, though the thrillers don't follow the series
Thrillers
Edit
Ad blocker interference detected!
Wikia is a free-to-use site that makes money from advertising. We have a modified experience for viewers using ad blockers

Wikia is not accessible if you've made further modifications. Remove the custom ad blocker rule(s) and the page will load as expected.