New pages
This is for anyone who is a big fan of the classic Sweet Valley High series, TV or books.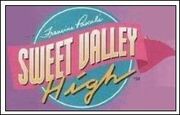 Sweet Valley Confidential
Edit
Sweet Valley High would be returning, in the form of Sweet Valley Confidential. This series would show the twins ten years older, 27 years old.

Sweet Valley High is a novel series created by Francine Pascal, who presided over a team of ghostwriters for the entire duration of the series' creation.[1][2] The books chronicle the lives of identical twins Jessica and Elizabeth Wakefield, who live in Sweet Valley, California and their friends at Sweet Valley High.
The series began in 1983 and ceased publication twenty years later with over 152 books to its name. Over the years, the books were written by many ghostwriters (including Emmy-award winning screenwriter Rodney Vaccaro). The books are generally classified as young-adult or kids' fiction and mostly belonged to the genre of soap opera, romance novel or fantasy-adventure. The series quickly gained popularity and spawned several spin-off series, including Sweet Valley Senior Year and Sweet Valley University.
The novels Sweet Valley Confidential and The Sweet Life, which follows the characters as adults, was released in 2011 and 2012.
References
Edit